Curry chicken salad is chock full of tender cooked chicken, tangy onions, crisp celery, oh-so-sweet golden raisins, and of course, plenty of curry powder. The flavor combination can't be beat. Serve on a sandwich, over a bed of lettuce, or on its own!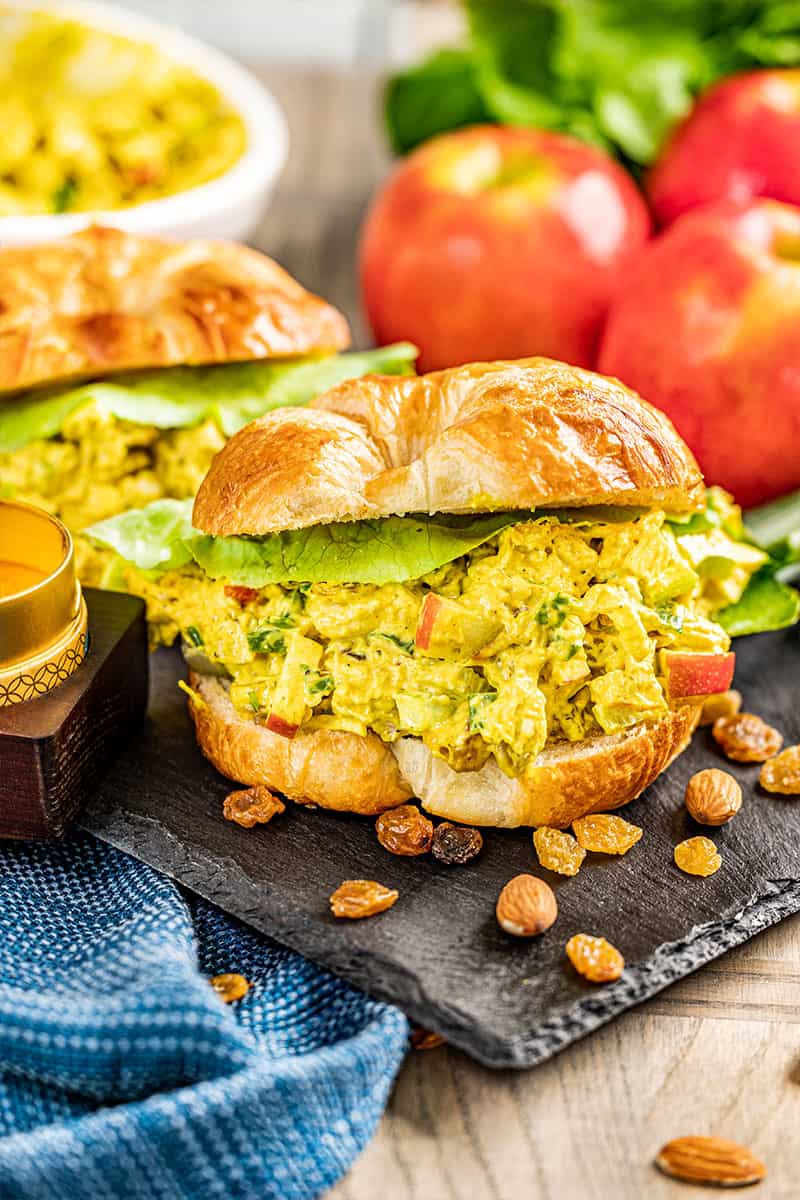 Cold salads are so easy to put together and so satisfying to eat! Dishes like tuna salad or chicken salad take us back to our childhoods. It was always on the menu when we went on a picnic or spent a day by the pool! We updated a classic chicken salad recipe by adding savory yet sweet curry powder. What's not to love about this Indian spice?! It pairs wonderfully with the creamy mayonnaise and the rest of the ingredients. We also love the addition of raisins. Not all chicken salad recipes feature this special extra, and we think it goes perfectly with the curry. Overall, this is the ultimate curry chicken salad recipe. You'll want to add it to your weekend lunch menu as soon as you taste it!
What Does Curry Taste Like?
If you've never tasted curry before, you're in for a treat. It boasts quite a unique flavor. It's savory, sweet, and earthy. It also has a brightness to it, and the yellow color lights up any dish that you add it to. It's simply delicious with the chicken, celery, raisins, and mayonnaise in this picnic-perfect dish.
Can I Make This Dish Vegan?
While the base of our curry chicken salad recipe is, well, chicken, you can make this dish vegan with some adjustments:
Replace the chicken with chickpeas
Replace the mayonnaise with a plant-based mayo
Nut Variations:
We've opted for almonds for our curried chicken salad recipe, but you can feel free to sub in:
Cashews
Hazelnuts
Brazil nuts
If you want to take this recipe next level, you can even toast the nuts before you add them! You can also completely omit the nuts if needed.
Chicken Options:
If you're looking for a way to use leftover chicken, this curry chicken salad is the perfect solution. You can also use:
Boiled chicken breast
Roasted chicken
Rotisserie chicken
Curry Chicken Salad Variations
If you're looking for a way to further update classic chicken salad, here's what we suggest:
Add in grapes or cranberries
Remove the fruit and add in cucumbers instead
Use Greek yogurt instead of mayonnaise for a lighter dish
Garnish with avocado for added veggies
Serving Suggestions
You can enjoy this curry chicken salad in a lettuce wrap, on a croissant, or in a tortilla. You can also simply eat it with a fork! If you're looking to complete a picnic meal, serve with: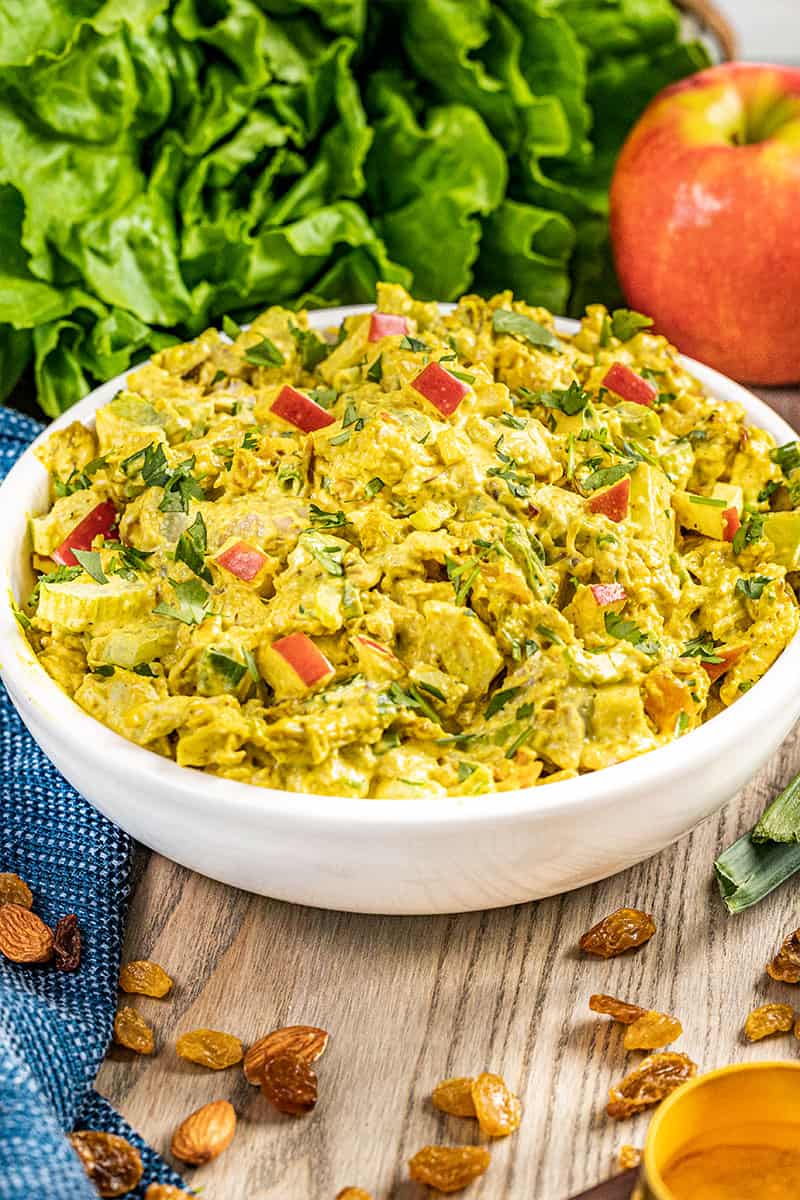 Make-Ahead Instructions
This is the perfect make-ahead meal. In fact, this cold salad is even tastier if it's been left in the fridge for at least a day before you eat it! This is great news if you want to prepare for a picnic or simply make a cold lunch ahead of time. Simply follow the instructions and cover your salad tightly with plastic wrap before storing it in the fridge. 
Storage Instructions
As mentioned, curried chicken salad is even better if you leave it in the fridge overnight or for one full day before you eat it. You'll want to store leftovers in the same way. Either cover your serving dish tightly with plastic wrap or place it in an airtight container. It will keep for 3 to 4 days.
If you like this recipe, you may be interested in these other delicious salad recipes:
Watch the video below where Caytlin will walk you through every step of this recipe. Sometimes it helps to have a visual, and we've always got you covered with our cooking show. You can find the complete collection of recipes on YouTube, Facebook Watch, or our Facebook Page, or right here on our website with their corresponding recipes.
Source link